Now entering a new decade, Tech23 is an unmissable celebration of homegrown deep tech that hurts your head!
TECH23.2019
Wednesday 23 October 2019
The Auditorium
37 Reservoir Street, Surry Hills NSW
9.00am – 5.00pm: Tech23 2019
5.00pm – 7.00pm: Networking and Awards
Register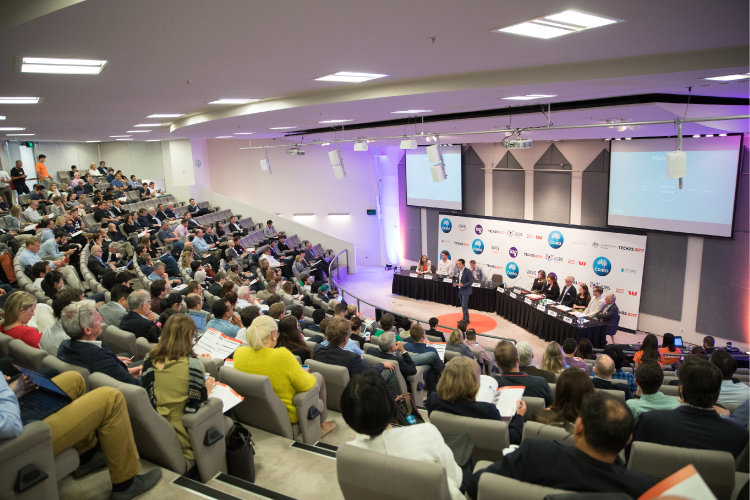 Now entering a new decade, Tech23 continues to resonate as an unmissable national celebration of innovation in Australia's tech calendar.
TECH23.2019
Wednesday 23 October 2019
The Auditorium
37 Reservoir Street, Surry Hills NSW
7.30am: Tech23 Exclusive Breakfast
9.00am – 5.00pm: Tech23 2019
5.00pm – 7.00pm: Networking and Awards
Register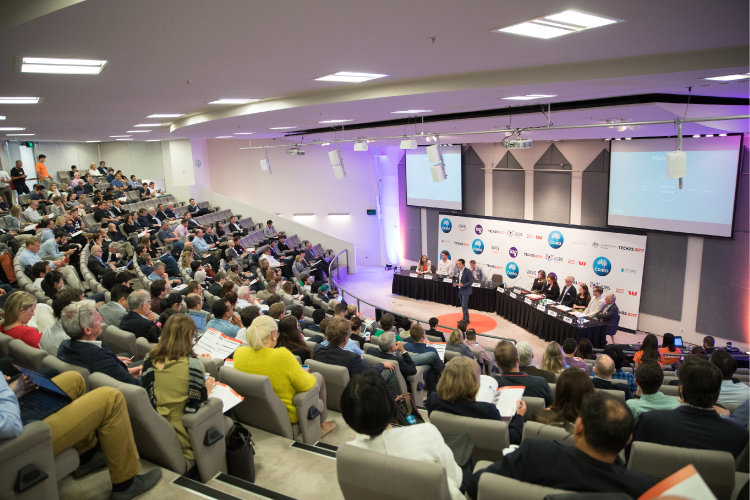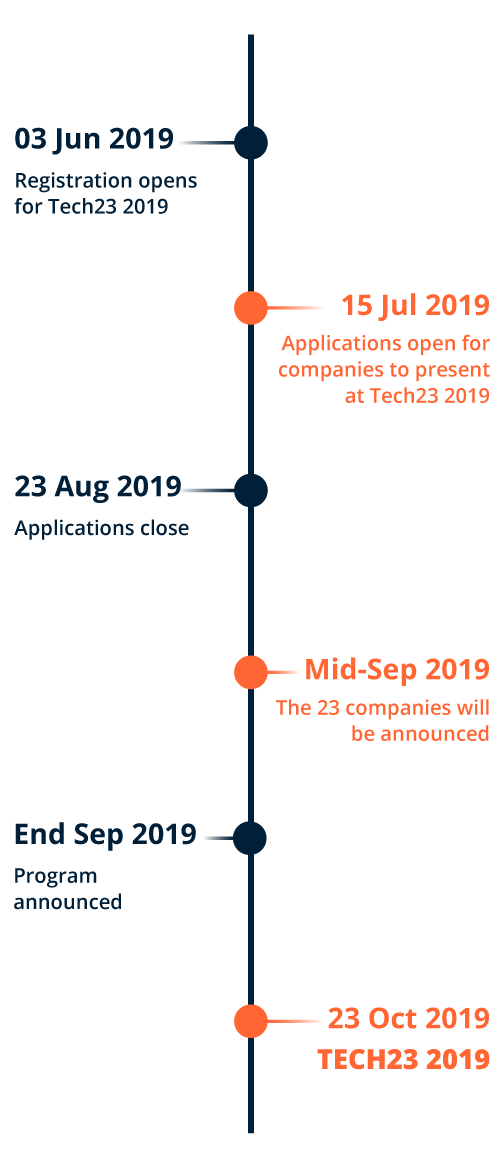 Hurting Heads With Deep Tech
For 11 years, Tech23 has been one of the few truly national forums celebrating homegrown innovation. Tech23 showcases world-class startups from Perth to Brisbane, Wollongong to Hobart; a unique space for them to tell their stories to the country's deep tech ecosystem! Beyond state and territory boundaries, Tech23 is a gathering brimming with goodwill, promoting connections and collaborations where they are needed most.
Tech23 brings together a magic mix of investors, entrepreneurs and innovators, joining the dots between the ideas and resources needed to tackle big tech challenges together. Tech23 nurtures the cross-pollination between curious people from industries and areas of expertise as diverse as Australia itself. So many stories have been sparked out of conversations that started at Tech23, whether this space connected them to their next investor, colleague, mentor, partner or customer - at Tech23, you truly never know who you might meet!
23 homegrown high-growth tech companies have five minutes to share their founder stories to a good-willed crowd of 350+ and receive feedback from distinguished Industry Leaders, VC and angel investors, potential enterprise customers and successful serial entrepreneurs.
Tech23 shines a light on meaningful ideas from people passionate about the tech they're creating. Whether it's digging deeper into data, shifting realities with VR and AR, or building a bigger, better web, Tech23 dives into the type of tech that hurts your head - in the best way possible!
Some of Australia's greatest success stories have taken the stage as Tech23 companies:
Airwallex, BuildingIQ, Culture Amp, iCetana, FluroSat and Microba.
A forum for investors to meet up-and-coming tech companies
Where enterprises can get a grasp of what's next on the horizon
Where ideas from investors, entrepreneurs and innovators from government, university and industry cross-pollinate
A showcase of organisations supporting startups: accelerators, incubators, research institutions
A place for world-class Australian deep tech companies to show off their ingenuity
Your window on the future!
Tech23 2019 is for you if you are:
An Industry Leader with advice and connections to share
A young company looking for guidance, growth and opportunities
An up-and-coming impresario looking for your big break
An investor scouting for your next smart investment
Looking to partnering with tomorrow's innovators as a way of getting ahead of the competition
Wanting to keep abreast of the deep tech of tomorrow and where future jobs may lie
A curious mind interested in finding out where Australian innovation can take us!
We'd love for you to join us at the 11th annual Tech23 - you never know who you might meet!
Wednesday 23 October 2019
9:00am - 5:00pm
Followed by awards and networking!
Where
The Auditorium
NSW Teachers Federation Conference Centre
37 Reservoir St, Surry Hills NSW 2010
Cost
Standard Rate: $249*
Entrepreneurs, government funded orgs and those working for startups: $149*
Students: $99*
Groups over 5 receive 10% off.
Register
(*Prices shown include GST and are Australian Dollar amounts).
Terms & Conditions
If the online registration form does not display or displays an error, please contact us at webmaster@teamslatts.com.au or on +61 3 9663 3093.
Please note there are no physical tickets issued prior to this event. Upon arrival at the venue, event materials will be available for you to collect at the registration desk. This will include your nametag.
Prices include all refreshments, materials and access to all sessions.
All prices shown include GST and are Australian Dollar amounts.
Payments by credit card will appear as 'Slatts Group Pty Ltd' on your statement.
We accept registrations from Australian and international users.
The Slatterys' Community Charter applies to all our events.
Cancellation Policy
Given written notice to accounts@teamslatts.com.au, prior to Monday 23 September 2019, we are happy to issue a refund for any cancellation of single tickets. Refunds are not provided for any cancellation received after Monday 23 September 2019 or for non-attendance on the day. Delegate substitutions may be made at any time. All refunds will incur a AUD50 administration fee. This fee will be deducted from the refund amount.