Tech23 2013 is made possible by our wonderful sponsors, including:
---
TITLE SPONSOR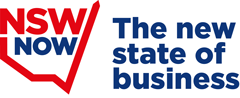 The
NSW Government
is committed to supporting and nurturing the NSW tech start-up sector and the digital economy.
Successful tech start-ups play a critical role in the NSW economy.
They stimulate growth through the use and creation of innovative technology, they create highly skilled jobs, they accelerate exports and improve our appeal as Australia's leading foreign investment location.
NSW is currently home to around 990 technology start-ups and, according to Google and PwC, some 64 per cent of Australia's cohort of technology start-up businesses are based in Sydney.
Our innovative start-ups are developing solutions to challenges not only in the Information Media and Telecommunications sector but also in other keys sectors such as finance, e-health, advanced manufacturing, energy technologies and services, online interactive education, transport, logistics and infrastructure.
The technology start-up sector is set to rapidly expand with the roll-out of Australia's high speed internet infrastructure, backed by NSW's leading capability in digital, ICT and creative industries.
According to PwC's The Start-up Economy 2013 report, the start-up ecosystem has the potential to contribute 4 per cent growth to Australia's GDP and directly employ about 540,000 people by 2033.
This would not be possible without the incubators, accelerators, investors and co-working spaces which all play an important role in supporting tech entrepreneurs.
The NSW Government is making significant contribution to the creation of a robust start-up ecosystem by collaborating with industry, developing secure capital markets to grow start-ups and SMEs and supporting initiatives and events likeTech23.
We are:
supporting research and development in new technologies through ongoing funding of National ICT Australia and Australian Centre for Broadband Innovation;
developing industry capability through the Small Business Commissioner's website resources and SmallBiz Connect program;
assisting innovative start-up companies through initiatives including our multi-million dollar Innovate NSW initiative;
attracting ICT investment by major global corporations in part through our support for major international events such as CeBIT;
identifying and promoting export opportunities through our network of NSW Government international offices, including our San Francisco office in Silicon Valley.
All of these initiatives are designed to help innovative NSW companies build a stronger ecosystem by supporting them to connect, collaborate and expand, both domestically and internationally.
---
GOLD SPONSORS

Amazon Web Services
(AWS), an Amazon.com company, provides businesses around the world with a reliable, scalable, low-cost computing platform in the cloud. To date, hundreds of thousands of customers across 190 countries have been using the AWS Cloud to power their business--everything from high performance computing, SaaS and enterprise applications to social networking sites. AWS allows businesses to focus on tasks that truly differentiate their business, rather than worrying about infrastructure. There are no up-front costs and no long term commitment, you simply use the resources you need as your business demands them. Imagine the possibilities with your IT infrastructure in the cloud. Learn more at http://aws.amazon.com

NICTA
is Australia's ICT Research Centre of Excellence.
We pursue high-impact research excellence and, through application of this research, create national benefit and wealth for Australia.
We are helping to build a sustainable Australian ICT sector by:
making fundamental advances in ICT research that enable the development of globally competitive products, processes and services,
building innovative ICT companies, such as Open Kernel Labs that has software in more than one third of the world's mobile devices, and
contributing skills and outcomes that are changing the profile of the ICT industry.
Our research addresses the technology challenges facing industry, the community and the nation. We seek to improve the international competitiveness of both academic ICT research and ICT industry innovation by tightly linking the two to achieve greater economic and social impact.
Since foundation, we have created eight new companies, collaborated on joint projects with a range of end-user and ICT industries, developed a substantial technology and intellectual property portfolio, and supplied an ongoing stream of new talent to the ICT industry through our PhD program.
---
SILVER SPONSORS

Amplify Festival
is Australia's leading festival for discussing business innovation with some of the world's boldest thinkers.
Powered by AMP, Amplify is an engine for exploring edge-thinking, disruptive technologies and emerging trends that impact business.
Founded in 2005, Amplify Festival is held every two years, and in 2013 featured 43 global thought leaders, 98 sub-events across two cities and a publicly available live stream of all keynote sessions. In total, 5,000 people took part in the event, either in person or by watching online.
In between Festivals, Amplify offers bite-sized 'Samplify' events - hour-long speaker sessions and workshops with creative professionals. Samplify sessions are curated for anyone who wants to keep up with the latest thinking on the future of business.
Get involved
Head to the Amplify Festival website - www.amplifyfestival.com.au - for the latest speaker sessions captured on video, thought-provoking articles and exclusive interviews with edge thinkers.
Add your voice to the conversation in our Amplify community online or join the conversation in the twittersphere (@amplifyfest).
Sign-up to our newsletter on amplifyfestival.com.au to keep up-to-date with all Amplify and Samplify news and events.

Anchor
provides managed hosting services for business critical websites and web applications. Full service and fully accountable, we expertly manage your hosting - right up to your code.
Founded in 2000, Anchor specialise in creating innovative and scalable hosting solutions for our customers, bringing deep DevOps & Systems Administration expertise that is unique in the hosting industry. With hybrid cloud capabilities and hosting infrastructure spanning three data centers in Australia and the USA, we can build a solution to meet your needs.
Anchor's management services go well beyond the industry definition of managed hosting; we delve deeply into the technology stacks behind some of the world's biggest websites and applications, heavily customising them to achieve the best possible performance and reliability.
Also unique to Anchor is our ability to act as an extension of your development team, working collaboratively to design and implement some of the most cost-effective, high-performing and scalable web hosting solutions in the world.
Ultimately though, the real value we provide is accountability. We will provide you with a dependable hosting environment that is expertly managed - all the way up to your code.
Come aboard, let us manage your servers so you can get on with managing your business.

Citrix
(NASDAQ:CTXS) is the cloud computing company that enables mobile workstyles - empowering people to work and collaborate from anywhere, accessing apps and data on any of the latest devices, as easily as they would in their own office - simply and securely. Citrix cloud computing solutions help IT and service providers build both private and public clouds - leveraging virtualization and networking technologies to deliver high-performance, elastic and cost-effective services for mobile workstyles. With market leading solutions for mobility, desktop virtualization, cloud networking, cloud platforms, collaboration, and data sharing, Citrix helps organisations of all sizes achieve the kind of speed and agility necessary to succeed in an increasingly mobile and dynamic world. Citrix products are in use at more than 260,000 organisations and by over 100 million users globally. Annual revenue in 2012 was $2.59 billion.

At
CSIRO
we shape the future. We do this by using science to solve real issues.
Our research makes a difference to industry, people and the planet. As Australia's national science agency we've been pushing the edge of what's possible for over 85 years. Today we have close to 6,500 talented people working out of 58 centres in Australia and internationally. Our people work closely with industry and communities to leave a lasting legacy.
We are one of the largest and most diverse research agencies in the world. Our interests span five broad areas: food, health and life science industries; energy; environment; information and communications; and manufacturing, materials and minerals. Within these areas we operate multiple national research flagships, facilities and collections.
Our ability to achieve results is shown by the quality of our research. We are in the top 1% of global research institutions in 14 of 22 research fields and in the top 0.1% in four research fields. Collectively, our innovation and excellence places us in the top ten applied research agencies in the world.
We ask, we seek, we solve. We are CSIRO.
---
BRONZE SPONSORS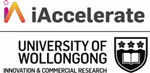 iAccelerate
is the University of Wollongong's initiative to build a flourishing startup community for the Illawarra region of NSW. It is built around a series of key programs to meet the needs of innovators and entrepreneurs as they build their businesses.
Programs include:
iAccelerate eClub - regular meetings featuring keynote speakers, for students and local startups.
iAccelerate StartPad - our early stage ideas incubator.
iAccelerate Pitch - supporting entrepreneurs to hone their pitches and then match home grown businesses to investors.
iAccelerate Educate - our series of key business/startup workshops.
iAccelerate Mentor - providing mentor guidelines and fostering relationships for casual to high touch mentoring.

London & Partners
is the official promotional organisation for London. We are the experts on doing business in the capital.
Connecting international businesses to London, we help them set up, succeed and grow. Our service is comprehensive, confidential and funded - therefore at no cost to our clients.
---
OTHER SPONSORS