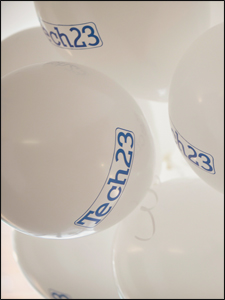 Tech23 is about making great innovation happen!
Now in its fifth year, Tech23 is
THE
must-attend innovation event of the year!
Tech23 celebrates innovation through an exciting collision of great minds, great ideas, and great purpose. Tech23 is dedicated to offering entrepreneurs opportunities. Exposure is a given, but what Tech23 also offers is direct contact to the investors, successful entrepreneurs, thought leaders and key government and industry experts that result in tangible business opportunities.
Tech23 unearths the innovations happening right here in Australia! 23 innovative young companies in the tech space are given five minutes to show off their business model to an audience of over 400 potential investors, partners and clients.
You never know who you might meet at Tech23!
Tech23
»
encourages innovation by bringing young companies to the fore
»
accelerates commercialisation and investment deals
»
encourages connections between innovators and potential investors, partners and clients partners and clients