Tech23 2010 Highlights:
You can also see the five minute presentations of the Tech23 companies here.
Those who ventured to Surry Hills Sydney for Tech23 2010 held on Thursday August 19th 2010 were welcomed by glorious sunshine and the buzz of hundreds of clever people all under one roof! Brains hurt and horizons were expanded as the 23 Tech23 companies presented their business offerings, whilst a stellar line-up of industry leaders probed the opportunities and challenges.
The award winners were announced at the Tech23 Awards Event Presentation Event held at the end of the day by NSW Minister for Small Business, Francesco Terenzini MP. Tech23's organiser and director of SlatteryIT, Rachel Slattery, commented on what a tight contest it had been with the depth and breadth of talent inspiring all those at the event. "The prizes are great but there is so much more to Tech23. Already it is obvious how much the Tech23 companies will get out of the event. Many have met potential clients, partners, investors, mentors- who knows what great things may happen as a result!"
Prizes Awarded as below
Tech23 2010 Innovation Pathways Prizes:
Broadband Innovation Award - iCetana
Outstanding Collaboration for Innovation Award - Taggle
Community Contribution Award - Solar-Gem
Greatest Potential Award - BuildingIQ
Innovation Excellence Award - Marathon Robotics
Tech23 2010 Supporter Prizes:
People's Choice for Best Tech23 Presentation - Marathon Robotics
Meeting with AIMIA Board - Punchcard
Meeting with Roger Allen - Aviator Controls
Meeting with AMP and $1500 - Neural Diagnostics
Place in ANZA Tech's Gateway to the US Workshop - Aviator Controls
Meeting with Bill Bartee, Southern Cross Venture Partners - Platform46
Lunch with Craig Blair, Netus - Portable
Meeting with Domenic Carosa - BiNu
Meeting with Dale McCarthy and Jack Matthews, Fairfax Digital - PunchCard
Meeting with Ryan Junee - ReadCloud
Meeting with Ric Richardson - BiNu
Meeting with David Spence - Ceebron
Lunch meeting with Conrad Yiu, News Digial Media - Cocoon Data
2 hour Workshop with Sydney Angels - BrainGauge
Bottle of Champagne for Rachel Slattery's favourite company - Cocoon Data
Meeting with OneVentures' Michelle Deaker - ReadCloud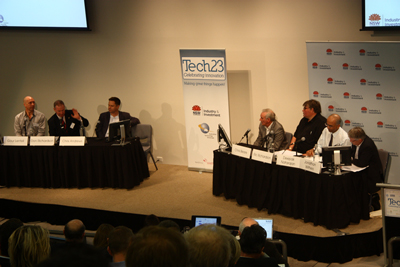 Tech23 2010 - Mobile / Wireless Panel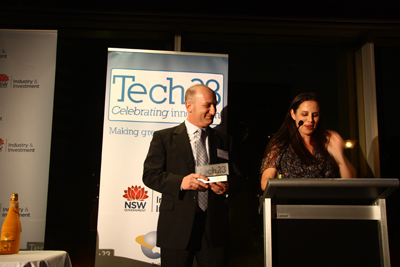 Tech23 2010 Awards Presentation Event - Francesco Terenzini MP and Rachel Slattery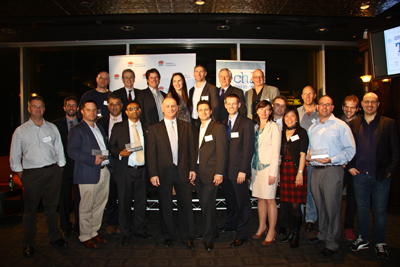 Tech23 2010 Awards Presentation Event - Tech23 Companies with Francesco Terenzini MP and Rachel Slattery
Sponsored by