Tech23 2013: Coming soon! Watch this space.

Congratulations to the 23 companies and Innovation Islanders who participated at Tech23 this year!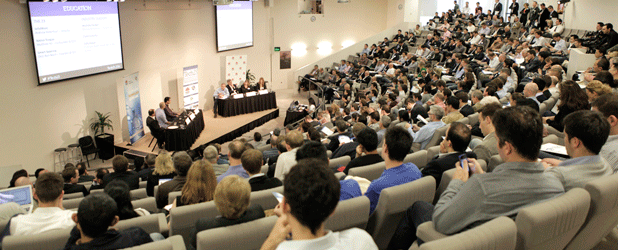 This year's event was a true celebration of innovation, with over 450 in attendance from start-ups, enterprise, investors, and more.
It was thrilling to discover who won the coveted prizes at the Tech23 awards celebration held at the end of the day, which is fast becoming the early technology sector's night of nights.
You can see a full list of winners below.
Thanks to everyone who came along and was part of making great things happen!
Tech23 2012 NSW Government Prizes:
Outstanding Collaboration for Innovation Award - $20,000 - Ninja Blocks
High Growth Catalyst Award - $20,000 - Smart Sparrow
Greatest Potential Award - $20,000 - ScriptRock
Innovation Excellence Award - $40,000 - Withdrawn*

Tech23 2012 Supporter Prizes:
AMP Most Promising Emerging Technology Award - Mobile Nation
PayPal Customer First Award - OneSaas Integrations
ATP Innovations Explorer Award - Withdrawn*
NICTA Innovation Award - StreetHawk
Citrix Best Early Stage Company Award - Parotel
CSIRO ICT Most Potential to Transform Australia Award - OneSaas Integrations
iLab Germinate Program Award - CeeQ
The New Agency Brightest Spark Award - 17Dynamics
OrionVM Best Cloud Application Award - Mobile Nation
Delicatessen Films Award - StreetHawk
Click PR Launch Campaign Award - Ninja Blocks
Half-day meeting with Gordon Bell - Ninja Blocks
Mentoring session with Steve Baxter - Full Extent
Fishburners Best Bootstrapped Business Award - Incoming
Saasu Plan for the Future Award - Adbiddr
Lunch with Daniel Petre - StreetHawk
Meeting with Lars Rasmussen - Rome2Rio
2 meetings with OneVentures - OneSaas Integrations
People's Choice for Best Presentation - Ninja Blocks
*The prize was withdrawn after SlatteryIT became aware that a third party asserted their ownership over technology used in Zeptonics' presentation.